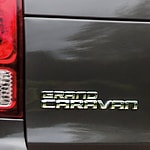 The exterior of the Dodge Grand Caravan has changed a lot over the years. While it was once a very boxy and simple vehicle, the current model is stylish and sleek. It's perfect as a comfortable family vehicle, but you can even use the Grand Caravan as a daily commuter car.
On the exterior, in this year's model, you'll notice that there are quad halogen headlamps in the front. There are LED taillights in the rear. Both help you navigate the road in the evening hours, but they also help keep you visible to other drivers that you're sharing the road with. You have the option to upgrade your lights package to include fog lights.
Sunscreen shaded windows are in the rear of the vehicle, and you can include power side doors and a powered hatch in the back.